8+

features in one product

Developed for tough everyday life in gastronomy

Fully customizable

Made in Germany
The most intuitive

waiter call system
The basic function of the Ordercube is easily explained: if guests want to order or pay, they simply tap on SERVICE or PAY. The Ordercube then changes its colour and a colour gradient will begin – e.g., from green to blue. This makes it easy for waitstaff to recognise which guest has been waiting the longest. All colours and time intervals can be set via the Ordercube app.
|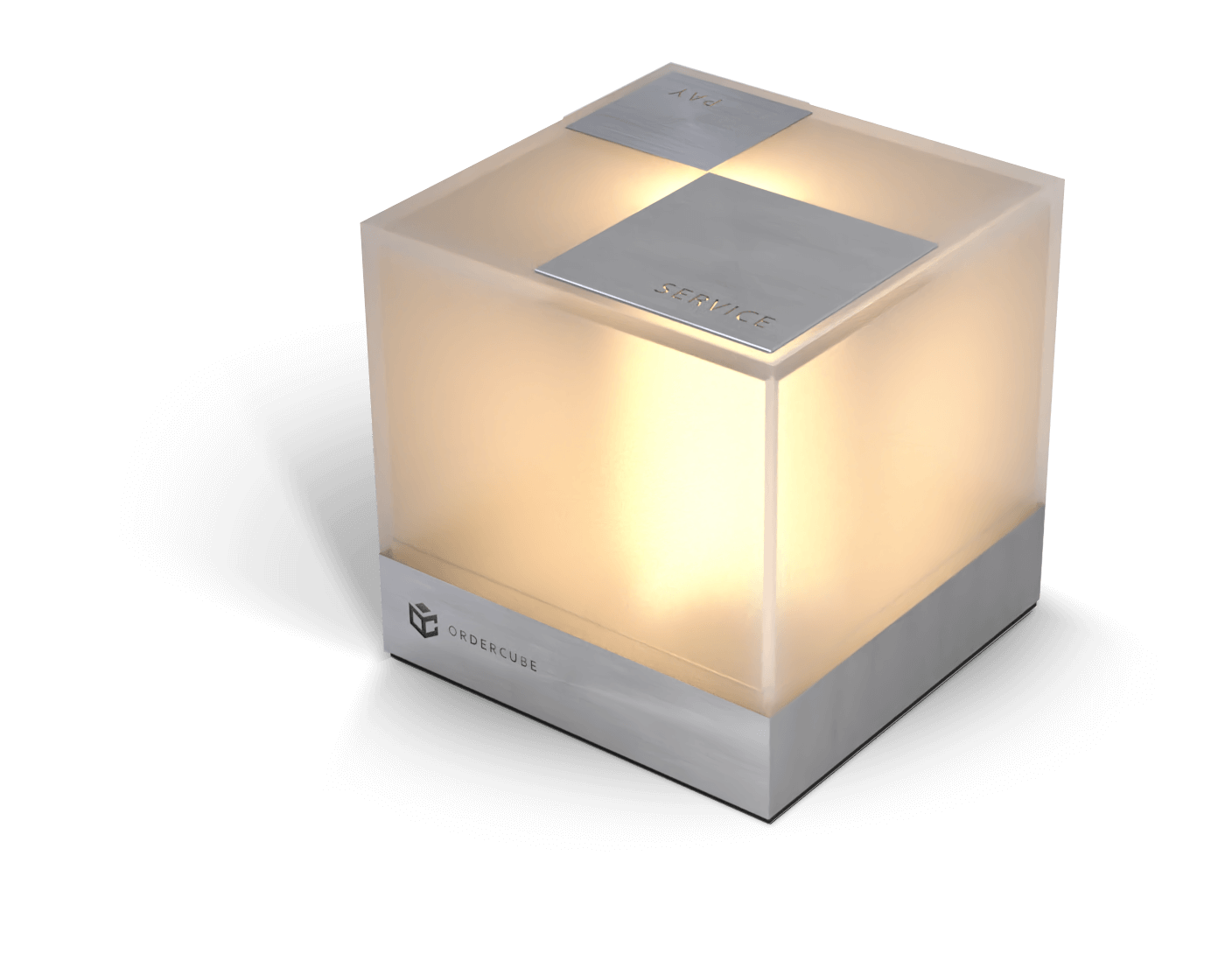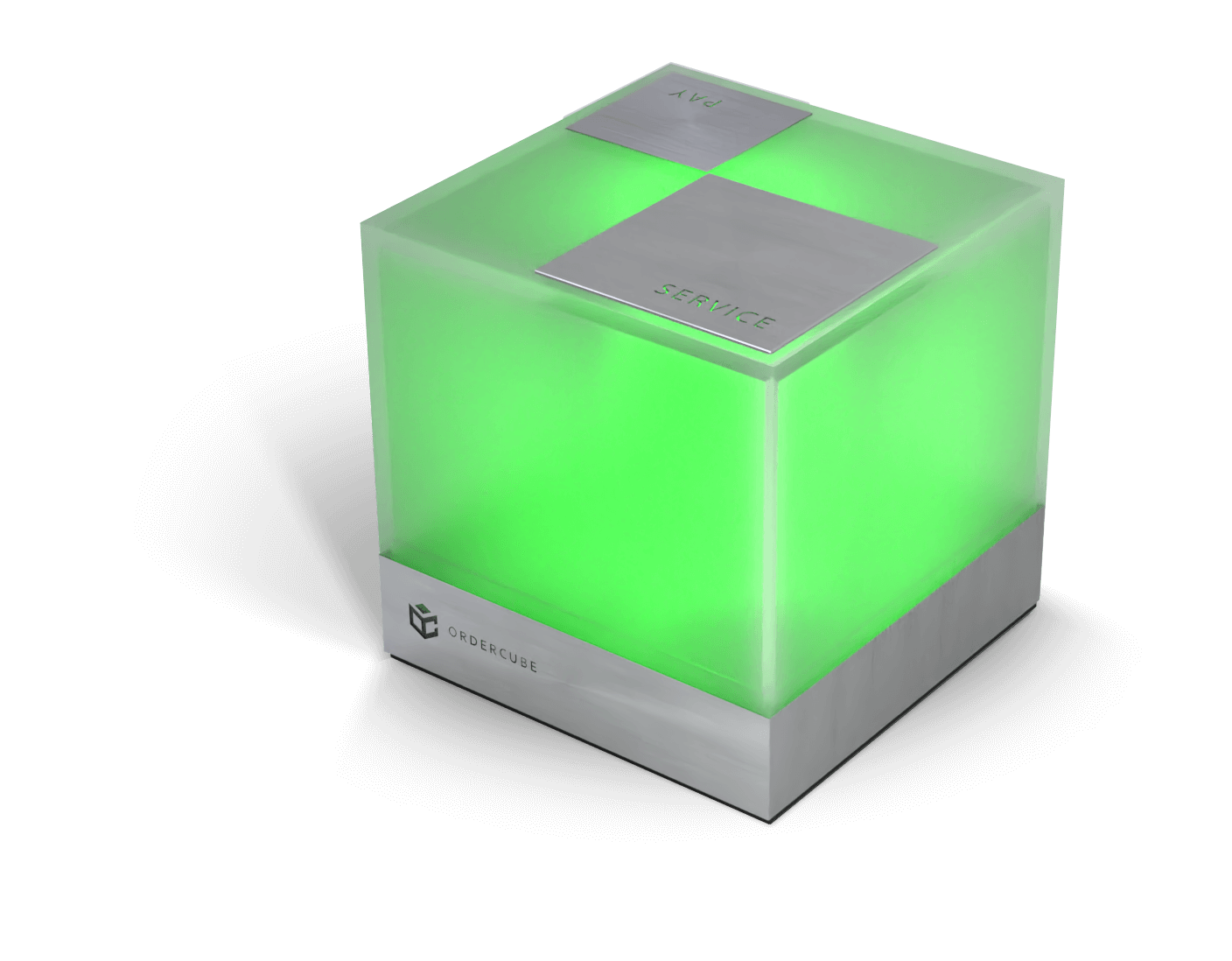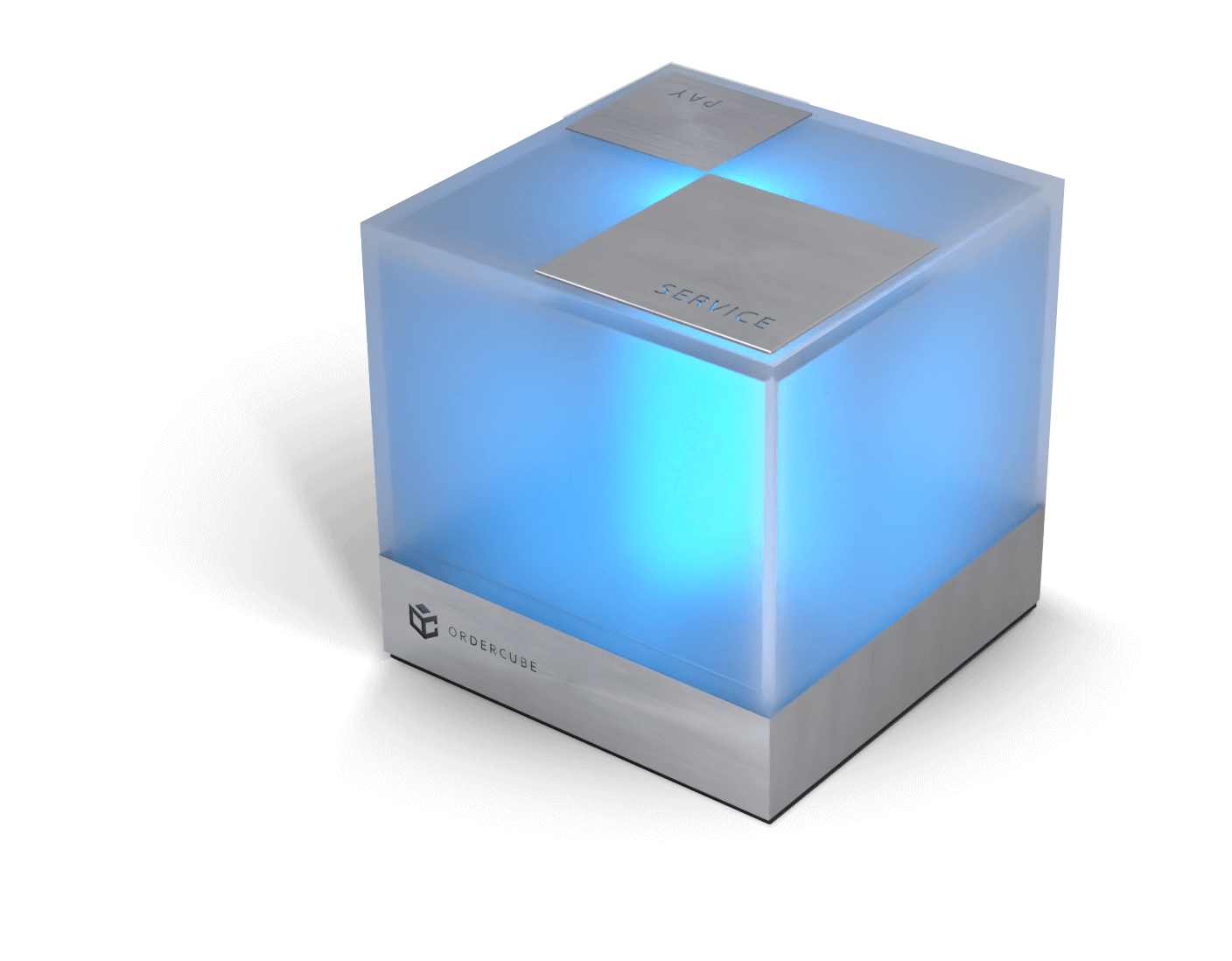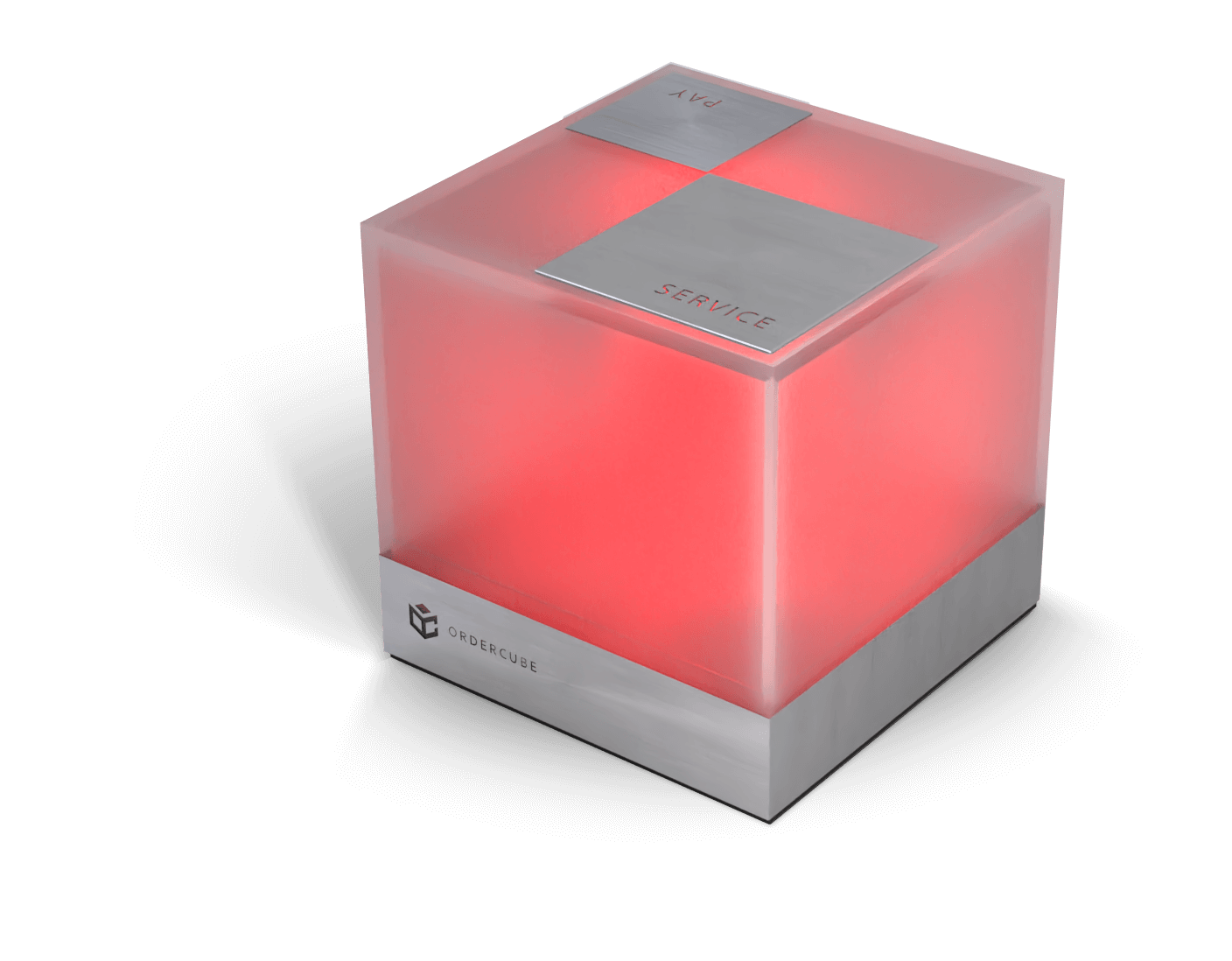 Table

plan

for
maximum

overview
All states of the Ordercubes are mirrored on the Ordercube app. This works via bluetooth beacons located on the buttom of the tables – allowing the Ordercube to recognizes on which table it is placed, meaning that it does not have to be placed on the same table every time.





|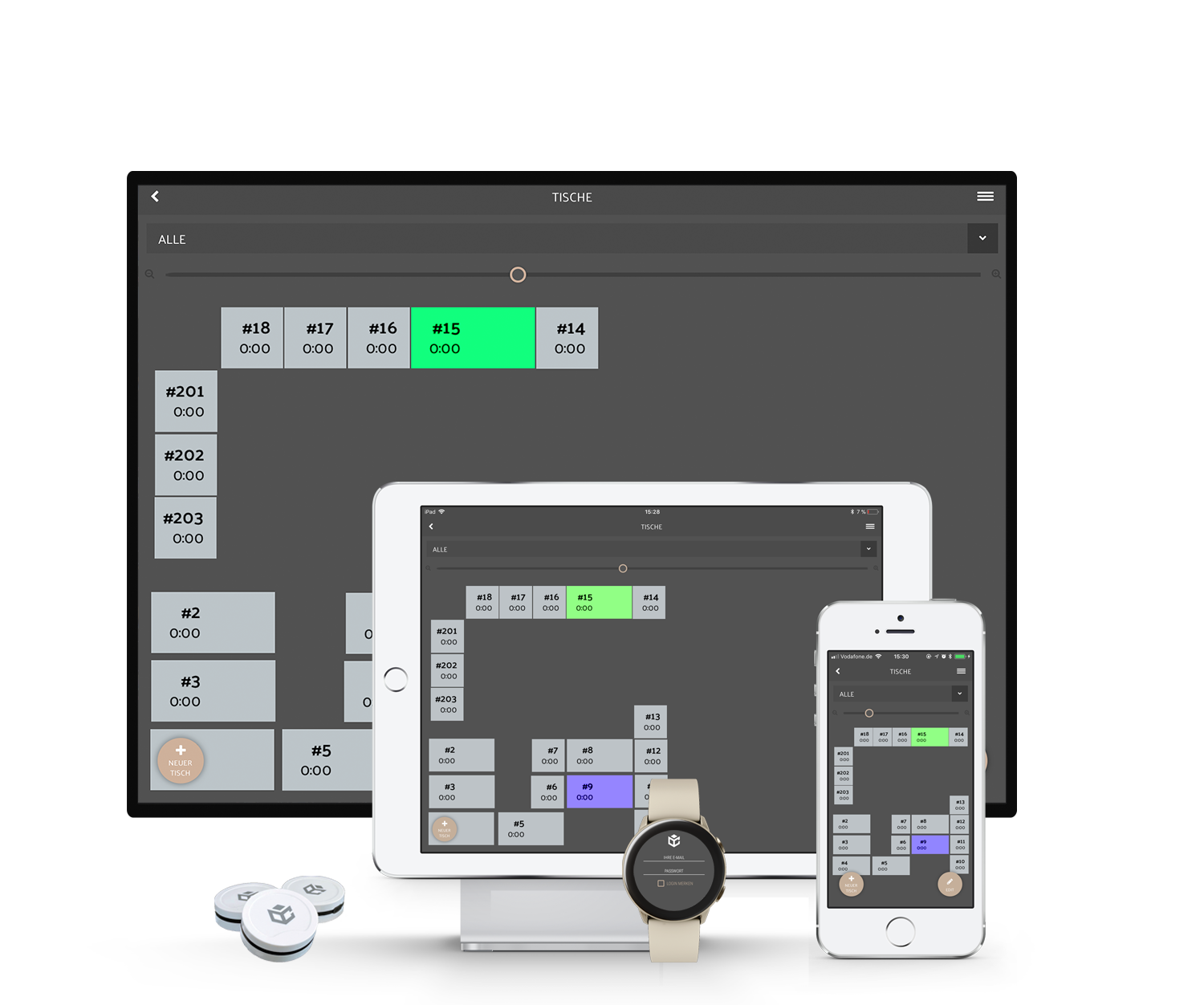 An innovative

candle replacement
The Ordercube does not take away additional space on the restaurant table, but replaces something that is already there: The candle. Restaurants are saving money on a consumable product, while their staff will no longer need to clean the candleholders, thus saving time. The candle function is fully customisable: colours, brightness and flickering intensity can be adjusted. In addition, the cube has a brightness sensor that automatically adjusts it to ambient lighting. The Ordercube remains clearly visible even in bright sunlight – outside LEDs can be activated as desired.
|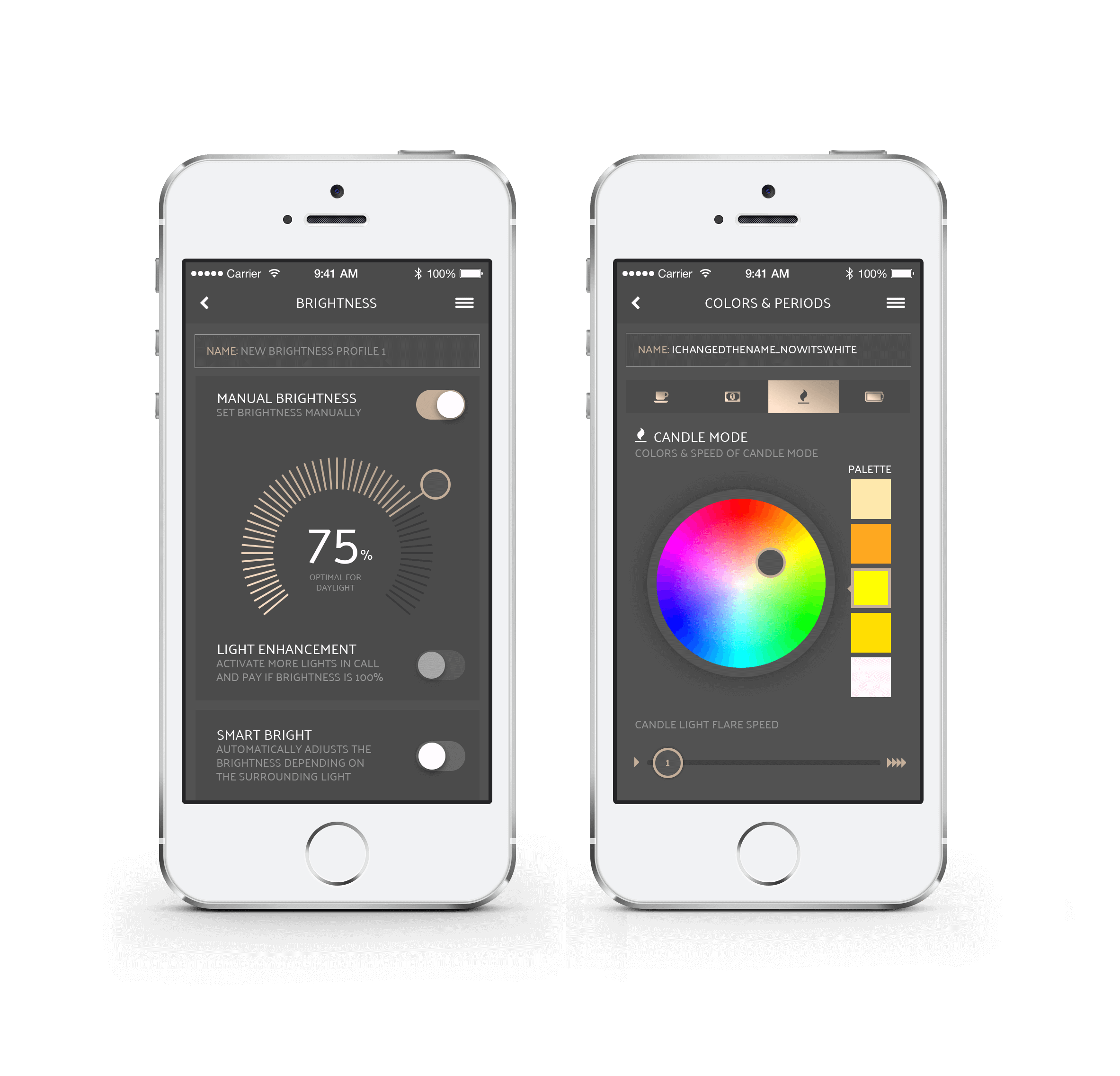 Mark tables as reserved – they will then be shown accordingly not only in the Table Overview: even the Ordercube itself is set to red and cannot be operated – until the waitstaff activates the Ordercube or the table via the app.
|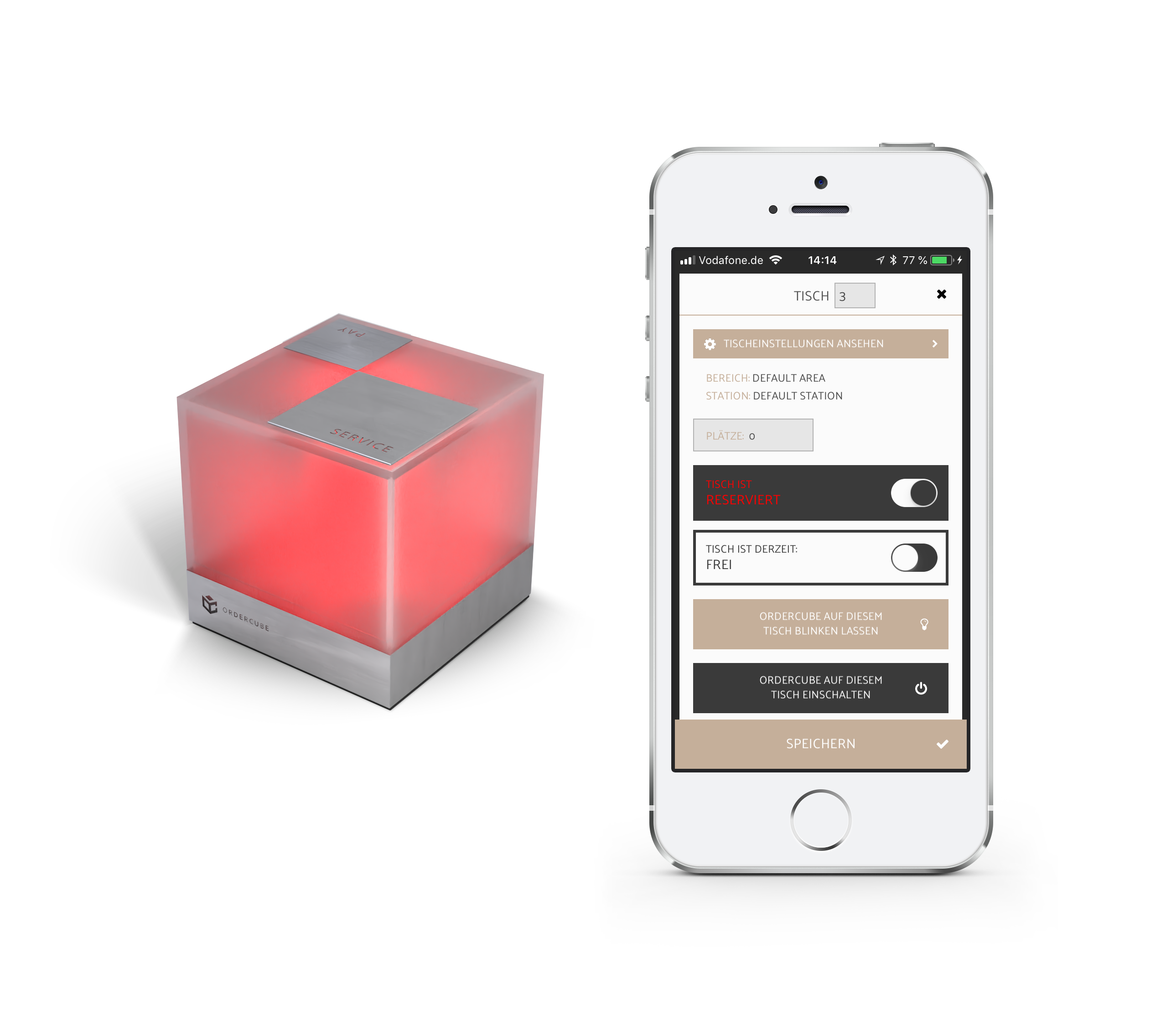 The Ordercube is the only product in the world that can measure average wait times for waitstaff, thus implying quality of service. It also generates additional statistics, allowing restaurant owners to optimize their operations even further.
|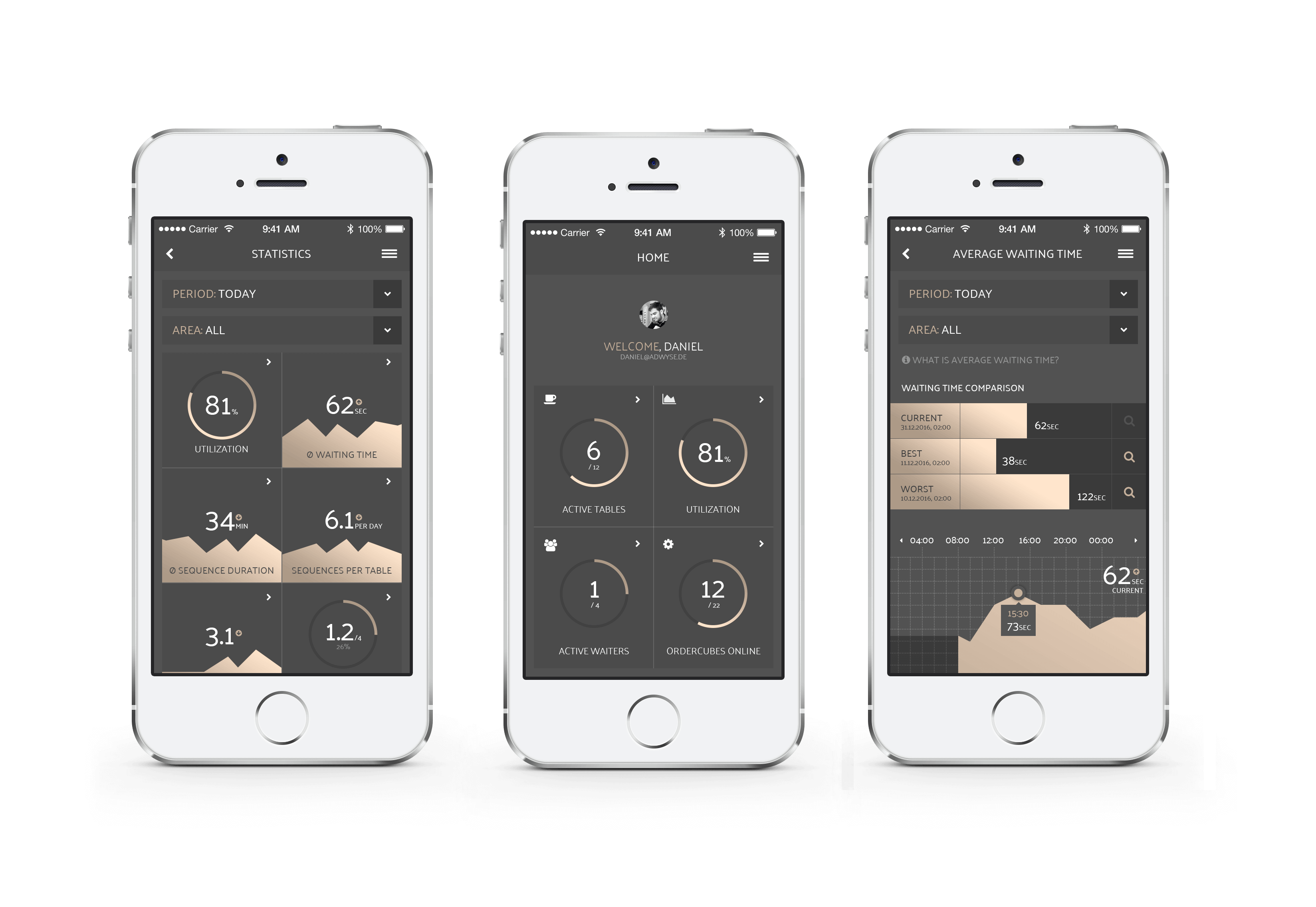 Live tracking:


overview on the go
Notifications such as push messages are fully customisable – for example, owners can be notified when the restaurant experiences increased activity. In addition, all table states and statistics can also be accessed on the go.
|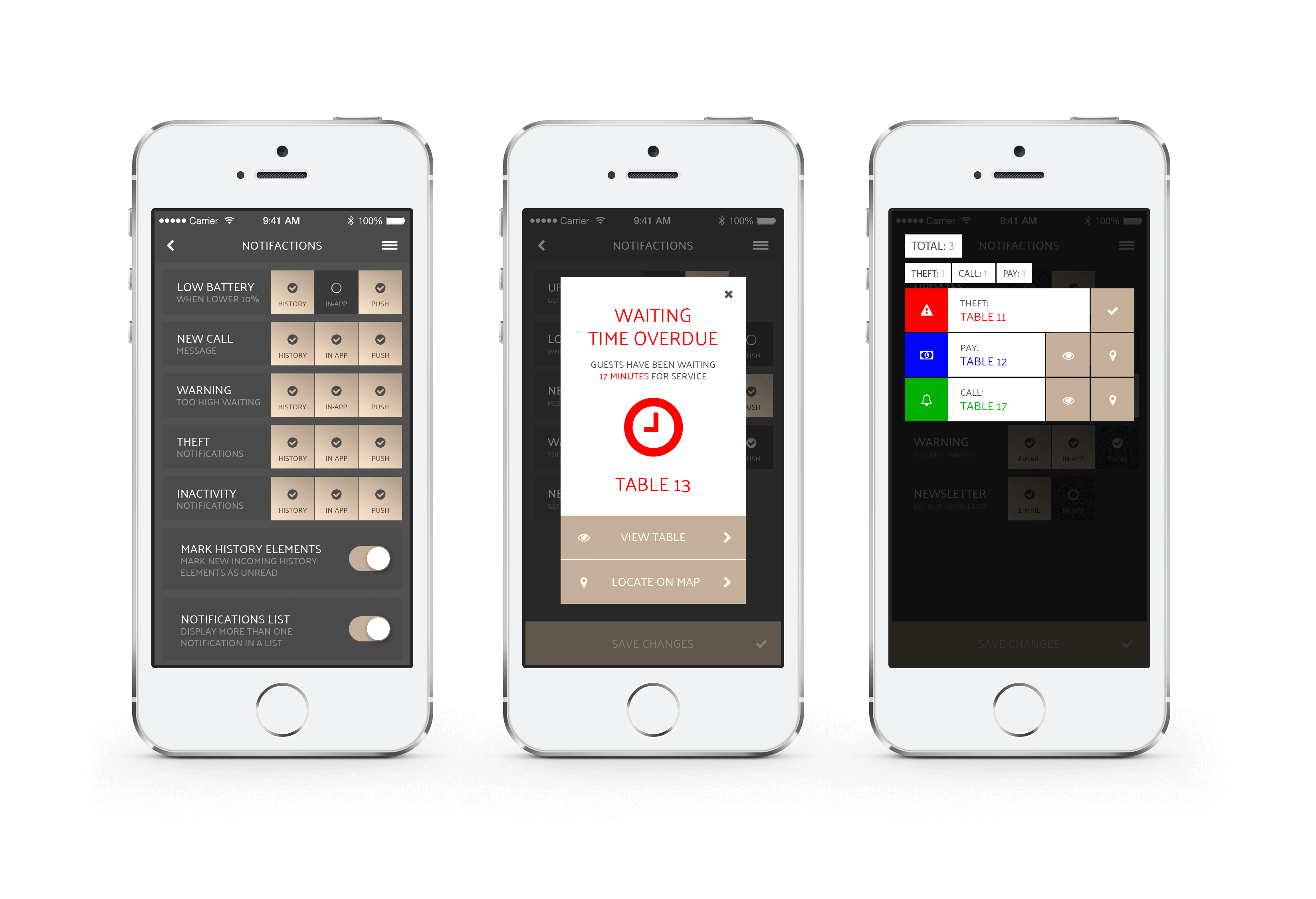 Sophisticated

theft protection
The Ordercube features several levels of protection against theft: leaving the network and movement initially triggers a discrete warning for guests and, in case movement continues, an alarm to the staff. Sensitivity of the protection can be fully adapted to the restaurant.
|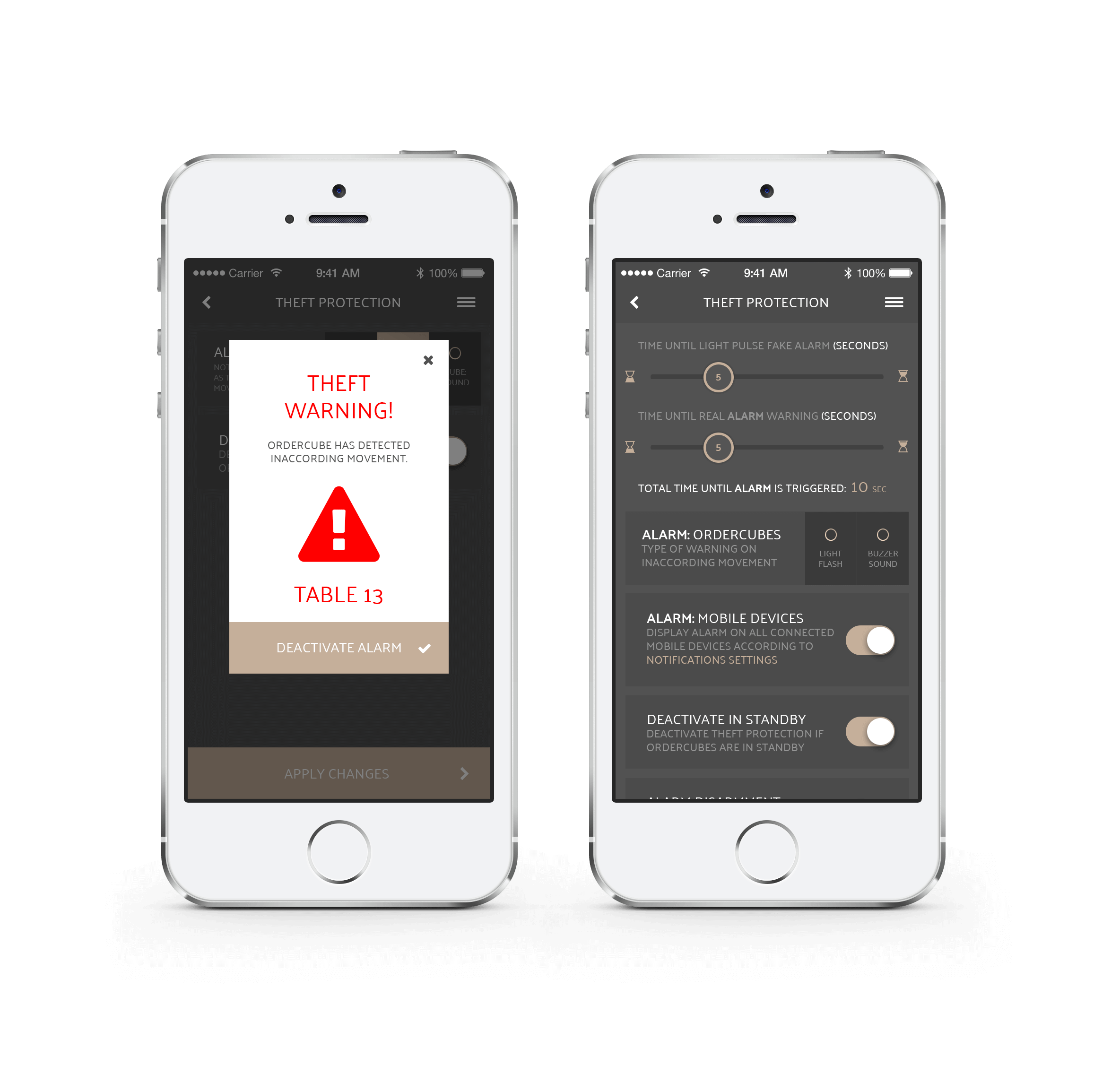 The Ordercube system is based on Bluetooth Smart 4.0 technology and establishes a stable, flexible and fast Bluetooth mesh network. Each Ordercube is a repeater in itself, making the range unlimited. Depending on the set-up, a distance of up to 50 metres to the next Ordercube is possible. The number of Ordercubes is not a barrier either.
|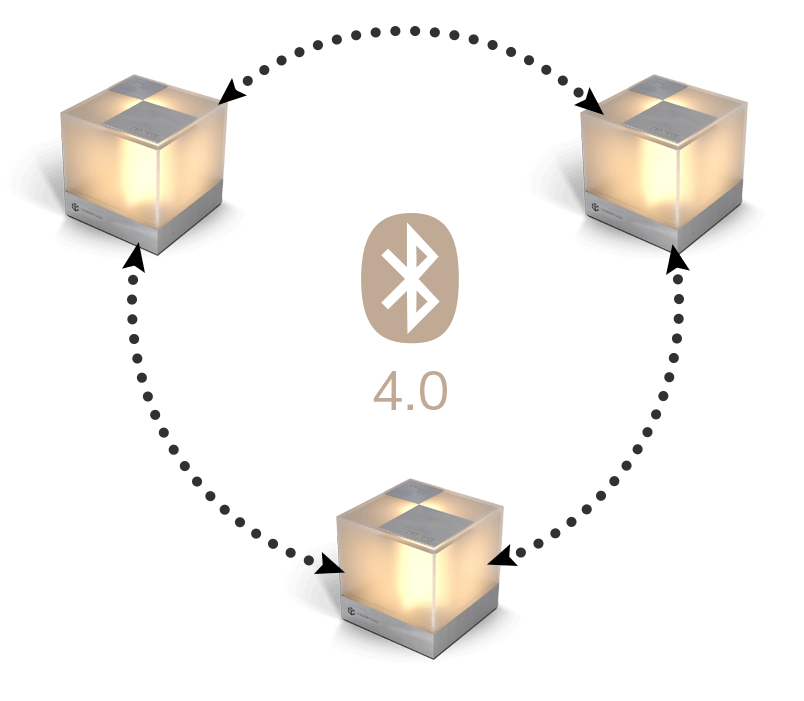 The Ordercube has been developed for the tough everyday life in the restaurant business and is therefore shockproof, water-repellent and has high-quality dirt-resistant stainless steel applications. The inductive charging station is useable both single and in groups of up to 20 stations, so that they can be placed individually and space saving.
Running time 30h
Charging time 6h